Message from COO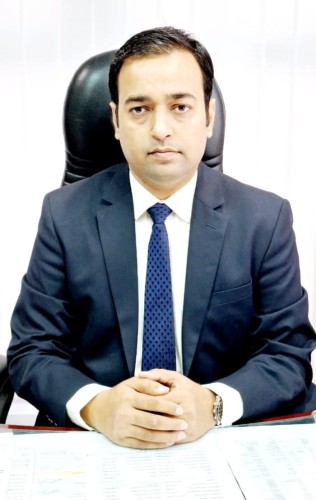 MR.GAURAV SHARMA
Chief Operating Officer
Oman Operations
Dear Esteemed Customers, Partners, and Team Members,
I am thrilled to extend my warm greetings to you as I step into the role of Chief Operating Officer at New India Assurance, Oman Operations, effective August 2023.
It is a tremendous honor and privilege to lead The New India Assurance Company Limited in Oman, and I am filled with immense joy as I take on the responsibility of guiding Team "New India" in the Sultanate of Oman. Our history is deeply intertwined with Oman's rich heritage, going back to 1974. The enduring and profound relationship between Oman and India underscores our unwavering commitment to the nation's economic and social progress.
In 1974, New India Assurance made history by becoming the first Indian foreign insurance company to establish a presence in Oman. Since then, we have expanded our footprint, establishing a strong presence in nearly all Gulf Cooperation Council countries. The name "New India" has come to represent the "Most Preferred and Trusted Brand" in General Insurance in Oman, thanks to our diverse product offerings and robust financial stability.
With a legacy spanning 104 years, we stand as one of the largest and financially strongest non-life global insurance companies, marked by several pioneering achievements, including insuring the first domestic airline and providing satellite insurance. We take immense pride in being the largest general insurance company in India, and over the past century, we have become synonymous with trust and reliability.
Our reach extends far beyond India, encompassing operations in 25 countries through international branches, agency offices, and subsidiaries, including a prestigious presence at Lloyd's, London. In terms of financial performance, our global gross written premium reached INR 38,791 Crores (approximately 1,796 Million Omani Rials), solidifying our position as India's largest non-life general insurer. We maintain a substantial market share of 13.42% and consistently lead in terms of net worth and domestic gross direct premium.
New India has achieved the distinction of being the first insurance company in India to secure the highest financial strength rating, 'AAA,' from Credit Rating Information Services of India Ltd (CRISIL). This rating reflects our unwavering financial strength in meeting policyholders' obligations. We are also proud members of the Association of British Insurance (ABI), London Insurance and Re-insurance Market Association (LRMA), and the Institute of London Underwriters (ILU).
Since our entry in 1974, New India-Oman has demonstrated steady growth, thanks to the unwavering support of our valued clients. Our reputation as one of the most customer-friendly insurance companies in Oman places an added responsibility on us to continually enhance customer satisfaction while addressing the insurance needs of the Oman market.
I wish to express our heartfelt gratitude to our esteemed business partner, M/s. Abdul Aziz & Brothers LLC, in the Sultanate of Oman. Their steadfast support and collaboration have been pivotal in our journey, and we deeply appreciate their ongoing commitment. Mr. Majid Abdul Rahim Jaffer, the Chairman of Abdul Aziz & Brothers LLC and Majid Group Companies, has been a guiding force in our partnership.
For the growth and outstanding performance of New India Assurance in the Sultanate, we owe a great debt of gratitude to His Majesty Sultan Haitham bin Tariq Al Said. The trust placed in us has been the driving force behind our mission to provide reliable insurance solutions that protect what matters most to you.
I would also like to acknowledge the significant role played by the Capital Market Authority (CMA) in Oman. The CMA is a vital regulatory authority that ensures the stability and integrity of the financial markets in the Sultanate of Oman. We highly value their oversight and partnership as we continue to provide reliable insurance solutions to our esteemed clients.
Looking ahead, our future strategy is built on the following pillars:
Maintaining and Increasing Market Share:  We are committed to sustaining and growing our market share by capitalizing on the benefits of economies of scale driven by growth.
Healthy Solvency Margin:  Ensuring a robust solvency margin is a top priority for us to safeguard our customers' interests.
Digital Transformation:  We are dedicated to enhancing digital penetration to elevate customer satisfaction, profitability, and growth.
Leveraging Technology:  We will harness technology to drive innovation, efficiency, and effectiveness in delivering insurance solutions to you.
I firmly believe that the success of New India Assurance, Oman Operations, rests on the collective efforts of our dedicated team, the trust bestowed upon us by our customers, and the unwavering support of our partners. Together, we will navigate challenges, seize opportunities, and chart a path toward a more secure and prosperous future.
I invite you to join us on this journey as we continue to protect what matters most to you. Our doors are always open to your feedback and suggestions, as your insights are invaluable in helping us serve you better.
Thank you for choosing New India Assurance, Oman Operations, as your insurance partner. We eagerly look forward to serving you with dedication and integrity. As we move forward, please know that we are committed to adapting and evolving our future strategy to meet market expectations, all while maintaining a focus on growth with profitability.
Warm regards,
Gaurav Sharma
Chief Operating Officer
New India Assurance Company, Oman Operations