Inauguration of Centenary Celebrations of Global Operations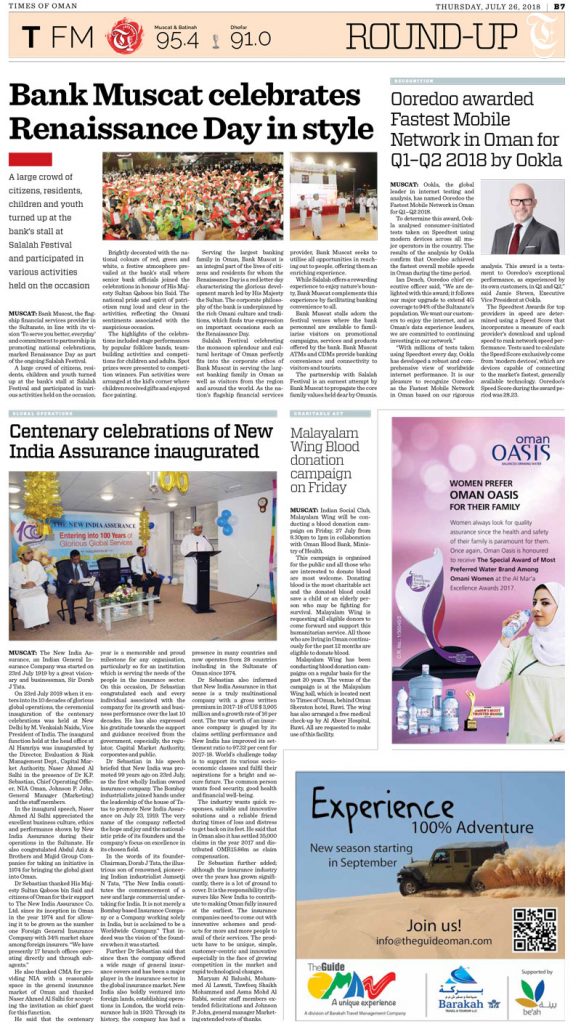 "The New India Assurance", an Indian General Insurance Company was started on 23rd July, 1919 by a Great Visionary and Businessman, Sir Dorab J Tata. On 23rd July, 2018 when it enters into its 10 decades of Glorious Global Operations, the ceremonial inauguration of the centenary celebrations was performed at New Delhi by His Excellency, M. Venkaiah Naidu, Vice President of India. 23rd being Renaissance day, we have commenced our celebrations only on Today, the 24th July, 2018. The proud and august inaugural function held at Head Office at Al Hamriya was inaugurated by the Director, Evaluation & Risk Management Dept., Capital Market Authority, Mr.Naser Ahmed Al Salhi in the presence of Dr. K.P. Sebastian, Chief Operating Officer, NIA Oman, Mr. Johnson P. John, General Manager (Marketing) and the staff members. In the inaugural speech Mr. Naser Ahmed Al Salhi appreciated the excellent business culture, ethics and performance shown by New India Assurance during their operations in the Sultanate. He also congratulated M/s. Abdul Aziz & Brothers LLC and Majid Group Companies for taking an initiative in 1974 for bringing the Global Giant into Oman Soil. Dr.Sebastian thanked His Majesty Sultan Qaboos Bin Sayed and citizens of Oman for their support to The New India Assurance Co. Ltd. since its inception in the Sultanate of Oman in the year 1974 and for allowing it to be grown as the number one Foreign General Insurance Company with 34% market share among foreign insurers. We have presently 17 branch offices operating directly and through sub agents.
Dr. K.P. Sebastian, Chief Operating Officer, NIA Oman, also thanked CMA for providing NIA a reasonable space in the General Insurance market of Oman and also thanked Mr. Naser Ahmed Al Salhi for accepting the invitation as Chief Guest for this auspicious function Dr. Sebastian said that the Centenary year is a memorable and proud milestone for any organization, particularly so for an institution which is serving the needs of the people in the insurance sector.
On this occasion, Dr. Sebastian congratulated each and every individual associated with the company for its growth and business performance over the last 10 decades. He has also expressed his gratitude towards the support and guidance received from the government, especially, the regulator, Capital Market Authority, Corporates and general public. Dr.Sebastian in his speech briefed that New India was promoted 99 years ago on 23rd July, as the first wholly Indian owned insurance company. The Eminent and highly respected Bombay industrialists joined hands under the leadership of the house of Tatas to promote New India Assurance on July 23, 1919.
The very name of the company reflected the hope and joy and the nationalistic pride of its founders and the company's focus on excellence in its chosen field. In the words of its founder-Chairman, Sir Dorab J Tata, the illustrious son of renowned, pioneering Indian industrialist Jamsetji N Tata, "The New India constitutes the commencement of a new and large commercial undertaking for India. It is not merely a Bombay based Insurance Company or a Company working solely in India, but is acclaimed to be a Worldwide Company." That indeed was the vision of the founders when it was started. Further Dr.Sebastian said that since then the company offered a wide range of general insurance covers and has been a major player in insurance sector in the global insurance market. New India also boldly ventured into foreign lands, establishing operations in London, the world reinsurance hub in 1920. Through its history, the company has had a presence in many countries and now operates from 28 countries including in the Sultanate of Oman since 1974. Dr. Sebastian also informed that New India Assurance in that sense is a truly multinational Company with a gross written premium in 2017-18 of US $ 3,905 Million and a growth rate of 16 per cent. The true worth of an insurance company is gauged by its claims settling performance and New India has improved its settlement ratio to 97.32 per cent for 2017-18. World's challenge today is to support its various socio-economic classes and fulfill their aspirations for a bright and secure future.
The common man wants food security, good health and financial well-being. The Industry wants quick responses, suitable and innovative solutions and a reliable friend during times of loss and distress to get back on its feet. He proudly announced that in Oman also we have settled 35,000 Claims in the year 2017 and distributed 15.86 Million Rial Omani as claim compensation. Dr. Sebastian further added; although, the insurance industry over the years has grown significantly, there is a lot of ground to cover. It is the responsibility of insurers like New India to contribute to making Oman fully insured at the earliest. The insurance companies need to come out with innovative schemes and products for more and more people to avail of their services. The products have to be unique, simple, customer-centric and innovative especially in the face of growing competition in the market and rapid technological changes. Dr.Sebastian once again thanked His Majesty Sultan Qaboos Bin Sayed and citizens of Oman for their support to The New India Assurance Co. Ltd. also thanked Mr.Majid Abdul Rahim Jaffer, Chairman, M/s. Abdul Aziz & Brothers LLC and Majid Group Companies, the business partner of The New India Assurance in the Sultanate of Oman. Mrs. Maryam Al Balushi, Mr. Mohammed Al Lawati, Mr. Tawfeeq Shaikh Mohammed and Ms. Asma Mohd Al Rahbi senior staff members extended felicitations and Mr.Johnson P. John, General Manager Marketing extended Vote of Thanks.